Travel Q&A with MyWeddingAway.com Owner, Karen Lantigua
If you've been following MyWeddingAway.com, then you probably know Karen Lantigua. She is the girl boss behind MyWeddingAway.com and considers herself, not only a destination wedding and honeymoon travel professional, but also a lover of all things travel and even a skilled cocktail connoisseur (just ask her and she'll tell you!).
With over 90 destinations and counting under her belt, it would only be fitting to ask Karen about her passion for travel and how it led her to creating such a successful business as a travel professional.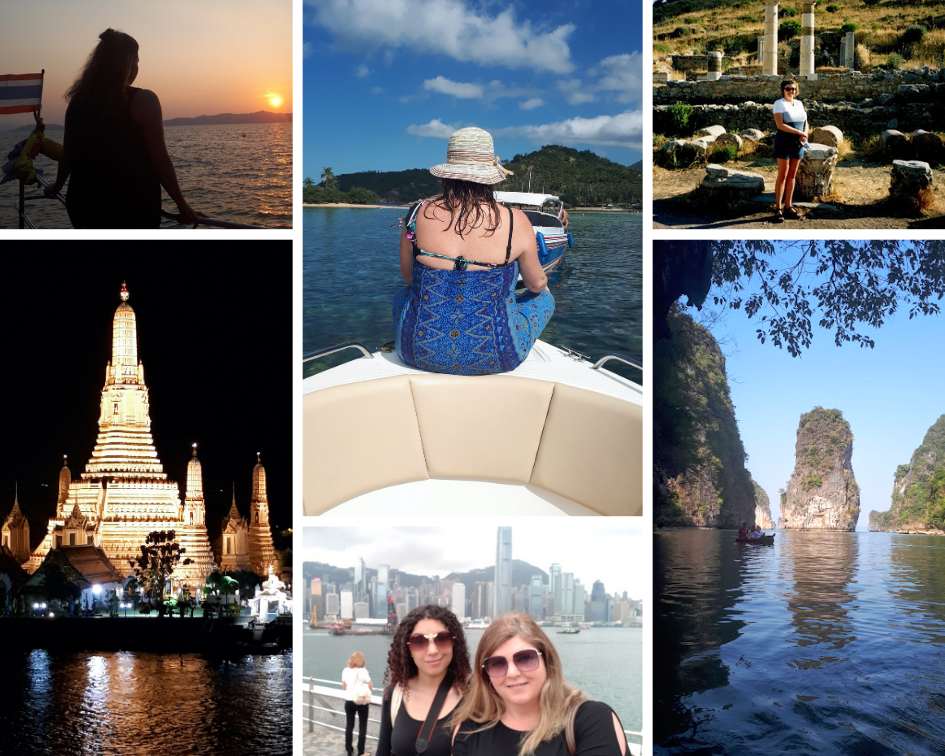 Check out these fun travel questions with Karen!
Q: Where is the first country you've ever travelled to and how did this spark your love for travel?
The first "vacation" that I took was with my family at about the age of 16. We went to Mexico to an all inclusive, I had been to the US before and Scotland but this was the first "resort" we had gone too. It was to a place called Los Angeles Locos on the pacific ocean in Manzanillo, Mexico... What a great experience we had, beautiful sunsets, crashing surf, horseback riding every day, nightly shows and the disco, oh what fun. We counted each day that past and were so sad to leave. I was hooked.
Q: You've been a travel professional for over two decades and have been to over 90 destinations in the world. Can you name your top 3 favourite destinations that you've been to and why?
This is such a hard question to answer. I have loved so many places and they are all so different from each other. I cannot really pick three, but here are three of my favorites, number one, Thailand.
Thailand is very unique, there is so much to see and it's fairly easy to get around. I love the culture, the food, the beaches, the art, the mountains, the shopping the spas. Something is always calling me back to see more. I have had some of the most incredible experiences in Thailand, including zip lining, elephant sanctuaries, cooking classes... One of my favorite tours was John Grey Hong by Starlight Sea Kayak tour.
Number two, the Greek islands. I loved traveling there. I did a 4-night cruise that disembarked in Santorini. Santorini is one of those magical places on the planet that gives you an indescribable feeling. From Santorini, I hopped on and off ferries visiting different islands... some just small fishing villages while others with bustling ports and ancient cities steeped in history. My favourite memory was in Mykonos, sipping a cold drink and eating fresh calamari with the sun setting.
Number three, the Dominican Republic. I have travelled extensively in this beautiful country that has the highest mountain ranges in the Caribbean, rain forests, incredible beaches and natural beauty.
I have experienced some amazing things in the DR, like white water rafting in Jarabacoa, canyoning and repelling a 130-foot waterfall and horseback riding in some of the most amazing country side. Catamaran excursions with the sails full out and riding the waves with flying fish springing from the ocean, playing in the big surf of Playa Grande to exploring Las Terrenas and Samana on ATV and horseback. It's not all beaches and all-inclusives in the DR.
Q: Have you lived and worked anywhere else outside of Canada? If so, where and how was it like living in that destination?
I have lived in Hong Kong, Thailand and the Dominican Republic.
Hong Kong was a great place to live and work because there's always something going on, like shopping, dining and nightlife. One of the most incredible city skylines anywhere. You can view it from the top of the peak mountain or from anywhere in Hong Kong Habour. It's breathtaking. Don't forget it's surrounded by 263 islands with gorgeous beaches and fishing villages.
Q: Being in the destination wedding planning and honeymoon space, you probably have your fair share of the most romantic destinations to visit. Can you name the most romantic place you've been to this year?
The most romantic place I have been this year is the Anantara Rasananda Koh Phangan Villas in Thailand.
To start you arrive by speed boat right on to the beach where staff are waiting to greet you. Each suite has its own pool and range from private garden views to ocean views. The meals are also delicious and they have an incredible spa. Just watch this video in the gallery and see for yourself.
When it's time to leave, you depart the same way you arrived and the staff wave good-bye to you from the shore until you are far off in the distance. I cannot get his place out of my mind. I'm going back for sure.
Q: Where is somewhere you have NEVER been before and would like to go?
I would just like to go on an extended trip around the world with no hard schedule. Just stay somewhere until I want to leave it and come home when I feel done. Here are some of the places that I would like to visit on that adventure: Peru, Spain, India, Africa, Vietnam, Philippines, and New Zealand.
Q: Are you planning to go anywhere this year? If so, where?
Thinking about Costa Rica and going back to Thailand. Maybe a sailing adventure.
Q: What do you love the most about being a travel professional, especially in the wedding planning and honeymoon space?
Seeing the wedding photos after its all done. I get emotional sometimes. I have been talking to this bride and groom for up to two years and feel like I get to know them.
Q: What are some tips that you would like to share with anyone who would like to turn their passion for travel into a business (or even any passion into a business)?
Make a plan, and just do it. Find a niche that you have an interest in and build your business from there. I can certainly help anyone interested in finding out more information about how to get started or even how to join our Destination Wedding team.
Q: Last question. Aisle or window seat?
Aisle, please. I like to straighten my legs and get up whenever I feel like it. Long haul I may consider a window, something to lean on and look out of.
Have anything else that you would like to learn about Karen? Just send us an e-mail or feel free to book your free consultation if you're ready to start planning your destination wedding or honeymoon!